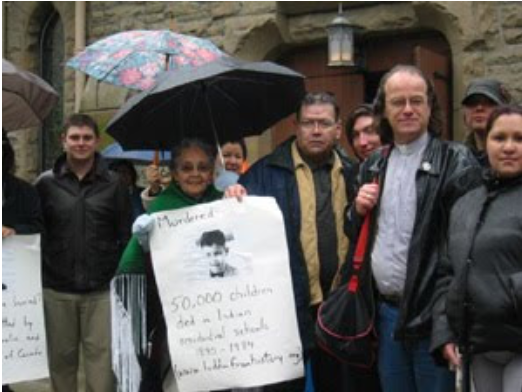 The world knows about the Canadian genocide of native children because of an event that was launched by survivors of that
crime seventeen years ago today. The first Aboriginal Holocaust Memorial Day in Vancouver on April 15, 2005, sparked a national movement that eventually forced out the truth and deposed Pope Benedict and other guilty criminals.
More than 60,000 children were routinely murdered in Catholic, Anglican, and United Church "Indian residential schools" and hospitals between 1891 and 1996. Many of these innocents died from drug testing experiments run by Pfizer, GlaxoSmithKline, and other pharma companies tied to these churches. Their COVID drug is the product of the medical murder of aboriginal and other children, and so it is now banned under international law.
The COVID tyranny could not have happened without this earlier regime of terror against indigenous children across Canada. Now that the churches and drug companies responsible for this massacre have been lawfully convicted of genocide by an international court, we are all obligated to help shut down these criminals and their corporations.
On Friday, April 15, 2022, remember the fallen innocents and pledge yourselves to fight for those who continue to be killed. On that day and the next Sunday, rally at your local Catholic, Anglican, and United churches and Big Pharma offices and enforce the arrest and confiscation orders against these killers. DISTRIBUTE THE ATTACHED FLYER TO CHURCHGOERS.
For more information and to access these orders, see www.murderbydecree.com under "ITCCS Updates", January 15.
Honor the dead by stopping their killers and the ongoing slaughter of the innocent!
Issued by the Chilcotin National Council and the Republic of Kanata
www.republicofkanata.org , republicnationalcouncil@protonmail.com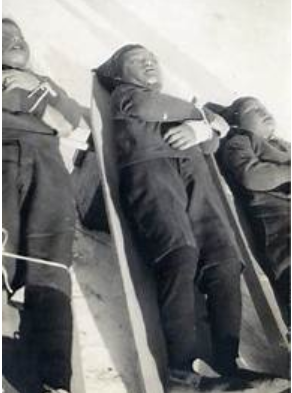 BANISHMENT AND EVICTION ORDER
Issued against the Roman Catholic, Anglican, and United Church of Canada
by indigenous elders of the Squamish, Tsilhqot'in, Anishinaabe, Cree, and Mohawk nations and the International Common Law Court of Justice (ICLCJ)
THESE CHURCHES HAVE BEEN BANISHED FROM CANADA BY LAW.
THEY ARE HEREBY AND FOREVER EVICTED FROM OUR NATIONS.
THEIR PROPERTIES AND ASSETS ARE HEREBY SEIZED BY OUR NATIONS AS PARTIAL REPARATIONS FOR THE MASS MURDER OF MORE THAN 60,000 NATIVE CHILDREN IN THE GENOCIDAL 'INDIAN RESIDENTIAL SCHOOLS'.
YOU ARE PROHIBITED BY LAW FROM ENTERING, ASSOCIATING WITH, OR FUNDING THESE CRIMINALLY CONVICTED CHURCHES.
IF YOU OR ANY CHURCH MEMBER, OFFICER, OR EMPLOYEE FAIL OR REFUSE TO ABIDE BY THIS ORDER, YOU AND THEY WILL FACE ARREST FOR CRIMINAL TRESPASS AND OBSTRUCTION OF JUSTICE.
THIS ORDER IS ISSUED IN ACCORDANCE WITH THE VERDICTS OF OUR RESPECTIVE INDIGENOUS COURTS AND THE JUDGMENT OF THE INTERNATIONAL COMMON LAW COURT OF JUSTICE OF JANUARY 15, 2022.
(WWW.MURDERBYDYDECREE.COM, 'ITCCS UPDATES')
THIS ORDER HAS THE FULL FORCE AND EFFECT OF THE LAW AND WILL BE ENFORCED BY OUR SHERIFFS AND PEACEKEEPERS.
ISSUED ON APRIL 15, 2022, UNDER THE AUTHORITY OF THE ICLCJ, OUR NATIONS, AND THE SOVEREIGN REPUBLIC OF KANATA (www.republicofkanata.org)